Investment thesis
Angami (NASDAQ:ANGH) is a platform that offers music streaming to listeners from 16 MENA, Arab and international countries.
This stock saw its price soar by more than 150% on one day last week, before returning some of his winnings.
However, when we think about this one, this SPAC investment is significantly overvalued at around 12 times forward sales. Investors would do well to avoid this name.
The roller coaster of investor sentiment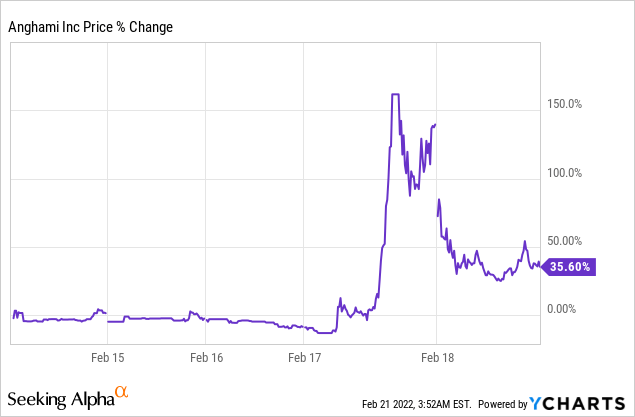 Last 5 days have been crazy for Anghami stock. It went from nothing major to skyrocketing over 150% in one day to dropping just over 40% the next.
However, as we ponder and consider this investment, I submit that investors would do well to avoid this name altogether.
Anghami's

Revenue growth rates are poor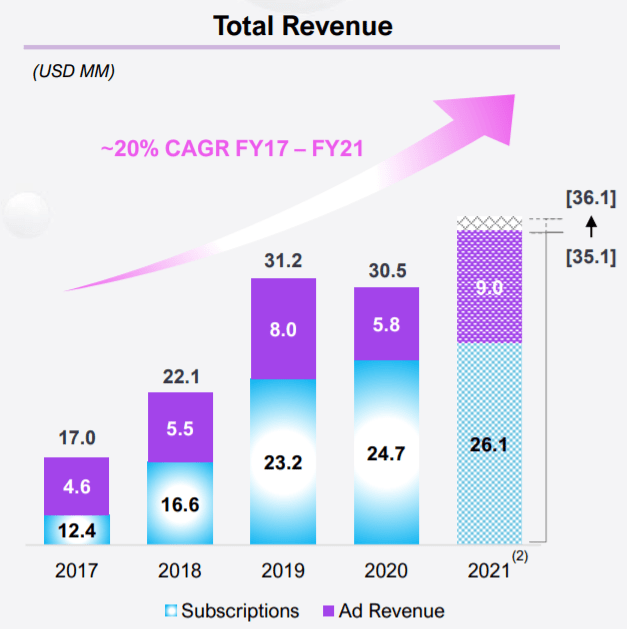 Anghami argues that its application is under-penetrated in the MENA region. Out of a population of 660 million, Anghami has only 18.4 million active subscribers.
Additionally, as you can see above, Anghami's subscription growth rates have been anemic, with subscription revenue growing 6% annually in 2021.
The bulk of the 18% year-over-year increase in revenue growth we're seeing for 2021 comes from advertising revenue.
So even if we were to assume that in 2022, Anghami was to grow 20% y/y to $43m, that would still leave a lot to be desired compared to its current valuation. But I'm moving forward. Before that, let's understand what is at stake here.
Why Anghami?
At the heart of the investment thesis is that Anghami holds the majority market share in the Arab region: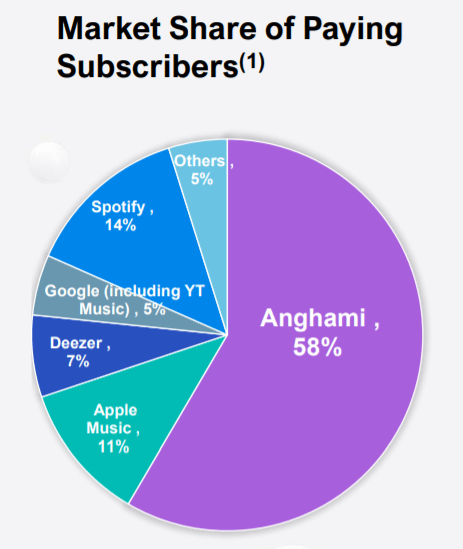 As you can see above, Anghami holds nearly 60% market share in the region, with no peers to come close.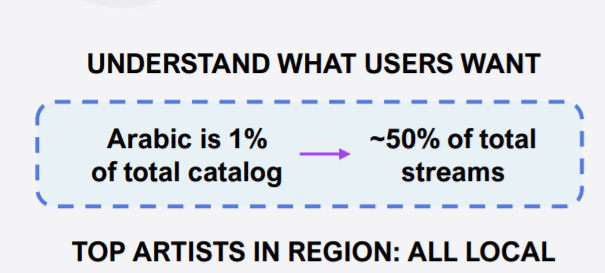 Additionally, Anghami claims that although its Arabic catalog is only 1% of the total music catalog, it represents around 50% of the total stream. It is clearly a music platform that is highly targeted and tailored to its listening users.
That being said, the company is struggling to make a profit, which we'll talk about next.
Anghami's profit margins leave a lot to be desired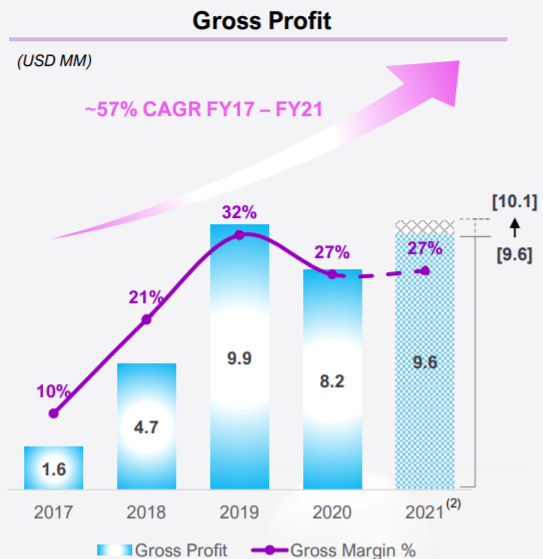 As you can see above, Anghami ended 2021 with gross margins of 27%. It's not that different from some of its other biggest global music streaming competitors.
What is significantly different is that many of its peers manage to be profitable through their gross margin profiles, namely Spotify (SPOT).
Yet, as you can see below, Anghami is far from profitable.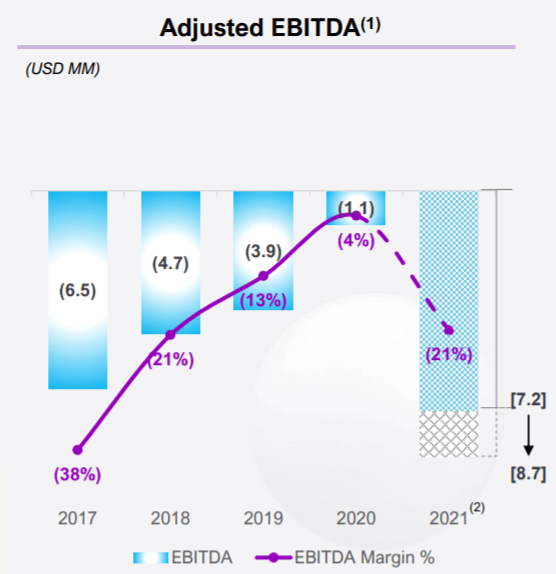 In fact, for the year just ended, Anghami's adjusted EBITDA profitability reversed much of the progress made over the past two years, with its EBITDA margins hitting negative 21% from 4 % positive in 2020.
Now, let's analyze its valuation.
ANGH Share Valuation – Overvalued
Before going any further, it is useful to understand the market capitalization price of Anghami. According to Investor Presentation, there are 31.5 million shares outstanding.

However, if we go back to a previous investor presentation, as of March 2021, the figure shows 36.2 million shares outstanding. Additionally, the figure shown above, taken from the most recent investor presentation, assumes no buyouts by existing public VMAC shareholders. Clearly, the whole point of this SPAC is that VMAC shareholders buy back their shares? Surely that's the whole point of this investment?
In any case, even taking into account the lower figure of 31.5 million shares outstanding, its market capitalization is already $500 million.
If we assume that Anghami continues to increase its revenue by 20% until 2022, this implies that its revenue would reach $43 million.
This puts the stock price at around 12 times forward sales. In the table that follows, we can see a range of Anghami's self-declared peers.

What we see here is that all Anghami peers are cheaper. The peer on the right, SWVL, is a Middle Eastern SPAC target based in Egypt that focuses on mass transit mobility, essentially a ride-sharing alternative to Uber (UBER).
Obviously, the closest peer is either Tencent Music (TME) or Spotify. And either of these two global names is now offered at a low single-digit price.
In fact, while I recognize that there are passionate bulls and bears on either side of Spotify's investment case, I still have to point out the obvious, if Spotify is now priced around 2x forward sales, why would anyone want to buy into a streaming player predominantly focused on the Arab world, without Spotify's talented management team and paying 12x forward sales?
The essential
One can look at Anghami from countless different angles, but I suspect that rational, logical, thoughtful and unbiased investors would all come to the same conclusion here. This company is significantly overvalued.
With countless better investment opportunities elsewhere, especially right now, I find countless better investment opportunities to deploy my own capital. Whatever you decide, good luck and good investment.